Linn is a lover of all things lilac. She lives in Norway with her two French bulldogs. She first found RND after our Torture Garden fashion show in 2017. She immediately fell in love with a photo of the Alexa Maxi dress that Torture Garden shared on their Instagram after the show.
She got in touch with Rose and asked if the dress could be made in Lilac. She sent a colour swatch which Rose worked to match. Rose created various swatches but narrowed it down the best few and sent these to Linn.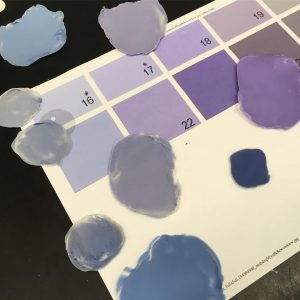 Linn was planning to wear her new custom made latex dress to a Torture Garden event in London and collect the dress from Rose. The samples were delayed in the post. Ever since the Brexit vote, post to Norway was taking much longer than expected and this delayed the process.
When Linn arrived in London she was able to meet with Rose in person in London to see the swatches and compare these with her other latex garments to see which went best, since she knew she wanted to be able to wear it with some garments she already had made out of transparent lilac sheeting. Since her custom-made dress wouldn't be finished in time for the TG event, Rose lent Linn the teal maxi dress from the photo to wear. Linn really enjoyed wearing the dress and received many compliments on the night out. Around London people often recognize RND pieces and friends of Rose came up to speak to Linn about the dress.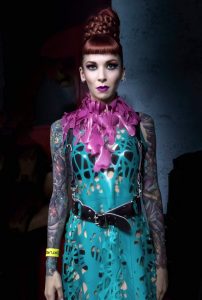 Rose was able to complete Linn's latex dress in the selected Lilac colour for Linn to collect when returning the teal one. Linn posted this photo and review on Etsy:
"Kelli showed outstanding service and made me several colour swatches to ensure the correct colour. thank you very much for dealing with my colour requests. the dress fits really nice and is super comfortable too. can't wait to wear it out. you will definitely get a great item from this seller. I will order again <3"